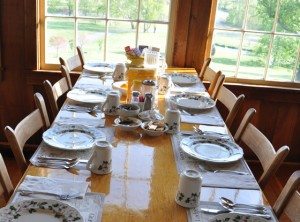 The Graves Mountain Lodge Restaurant is open to our guests and the public for Breakfast, Lunch and Dinner meals while the lodge is open. Our rustic dining area is also the perfect place for special occasions such as receptions, anniversaries, reunions and birthdays.  We do require reservations.
We have set menus for each meal, special menu requests are available for banquets and groups.
Meals are served family style except for our buffets on Saturday dinner and Sunday lunch and dinner .  All meals are ALL-YOU-CAN EAT.
Just remember our motto: "Take what you want, but eat what you take."

Hours of Operation
Breakfast – 8:30 to 9:30 a.m.  $10.95
Lunch – 12:00 to 1:30 p.m. $12.95
Dinner – 6:30 to 7:30 p.m.  Price varies
Sunday Buffets – 12:30 to 2:30 p.m. and 6:00 to 7:30 p.m.  Price varies
Monday Dinner – Pot Luck $16.95 – $43.50
Tuesday Dinner – Catfish and Country Ham $23.95
Wednesday – Pot Luck $16.95 – $43.50 (except Seafood Buffet every second Wednesday of each month $35.95)
Thursday – Roast Beef $23.95
Friday – Rainbow Trout $27.95
Saturday – Rib-eye Steak $29.95
Sunday Lunch – Fried Chicken $18.95
Sunday Dinner – Fried Chicken and Country Ham $21.95
Most of our accommodations include three meals daily in the rate.
Call us today for more details or to make reservations.
Phone: 540-923-4231
Our Seafood Buffet includes: Steamed Crab Legs, Steamed Shrimp, Fried Shrimp, Sautéed Scallops, Salmon, Flounder, Fried Clam Strips, Steamed Clams, Fried Oysters, Baked Chicken & MORE. $35.95 per person, Children 17 & under are half price.  Seafood Dates for 2019 – March 20, April 10, May 8 & May 29(Special Date), June 12, July 10, August 14, September 11, October 9, November 13, December TBD.
Graves Mountain's Big Breakfast Buffet – Every 4th Saturday March through November
Sausage, Sausage Gravy, Bacon, Pancakes, Toast, Fruits, Grits, and more  $12.95/per person, Children 17 & under are half price.  Big Breakfast Dates for 2019  – March 23, April 27, May 25, June 22, July 27(Peach Day), August 24, September 28, October 26, November 23, December 7(with Santa).
One-half price for children 17 or under
Prices subject to change without notification
January 2018