PEACE of MIND for CHALLENGING DAYS
Tel 540 923 4231
We are a rural family resort and farm
in the Blue Ridge near Shenandoah National Park.
Tree frogs are chirping.
Trees are budding.
Physical distancing is easy out here. And not expensive.
Social closeness is easy as well.
High Speed Internet for Cell to Internet and Internet to Cell calling - from the lodges. No Internet however in most cabins. But the Main Lodge and the Mercantile are open for your connections.
Skype- Facetime - What's App - Facebook Video - Netflix - Amazon - Hulu
We have the bandwidth and the remoteness.
We have 1100 acres to get out in, to hike, walk and run through so as to get good exercise,
good air in the lungs, and stay healthy with good air, water, and the relief of an  "escape".
Now Spring is budding, yet the fireplaces are still going at night.
May 2, 2020
We are open for guests in Cabins, Cottages, and Lodge Rooms

Each accommodation has its own entrance.
The Farm Restaurant is, however, CLOSED.
Syria Mercantile offers food options including:m  Deli Sandwiches made to order, prepared meals to go, pastries, snack foods, beer & wine, desserts and more!
16 Cabins and 55 Exterior Entry Lodge Rooms
By staying in one of our cabins or exterior entry lodge rooms, our guests have a secluded world from which to explore the outdoors with its rural, healthy air and trees budding to life.
With mountain outdoor activities in the Virginia Blue Ridge - 14 of them from hiking, spring trout fishing,and on to to horse back riding - the Farm provides opportunities for building both health and family welfare.
Our "family style" southern cooking farm restaurant is closed at this time due to COVID 19.
Mindful of health precautions, we are seating guests a good distance from each other and canceling all buffet style meals - now "family style".
Deli and General Store
The Syria Mercantile stands by with Deli and Sundries for the microwave and fridge in rooms. In room coffee and tea service will take care of the morning frost.
Comfort - with in room massages
Jenn or Megan can be booked in advance for massages in your room or for couples in our hospitality suite. They have a full menu of therapeutic to immune activation massages along with Reiki.
Health at Graves in the Blue Ridge - during the time of Corona
No Need to Go Through Public Spaces
All rooms or cabins have their own entrances, so you will not be going through a public space to get to your room.
Self Check-in Available
If you request, we can place your key, detail, and welcome pack just inside the main lodge front door for you to collect.
- Please request this service via info@gravesmountain.com
Cleaning- disinfection
We have adopted aggressive and frequent cleaning of touch surfaces in our public areas and the guest rooms and cabins surfaces are wiped down with alcohol or bleach.
Hand sanitizer is, as you would expect, available throughout the property. But not on the trails and in the streams. And we're not planning on that one. Nor are the fish and the critters.
Team Health Check
Every morning our team record their temperatures in a health log. Any rises are brought to their supervisor's attention for monitoring. If a team member is feeling unwell or has a temperature over 99, they will go home and stay home until medically released. Should a Covid test be done and a positive result come back, then a quarantine process is initiated and tracing would be initiated by the County.
Our Team and Masks
Inside the Main Lodge and Market, our team will be wearing masks or shields and will frequently be contained by plexiglass partition.
The exception - housekeepers who work from room to room outside, will on;y wear a mask if approaching a guest.
Guests - Masks and Social Distancing
Guests are requested to respect other guests and always wear a mask inside and social distance between "familial groups" both inside and out.
We are unable to enforce this legally for our guests and we would say 95% comply - except in the Market and Deli, where compliance drops to 75%.
We are working on a polite solution.
No Entrance into Your Room by Our Team
Your room will NOT be cleaned - no one from our team will go into it - for your protection and our team's, If you need a towel refresh, please call the front office.
If you are staying with us for many days, we can schedule with you the way to refresh your room - likely on a day when you are out all day and we can ozone, disinfect, and then clean it safely for you and us.
Dining and Food Options
With Covid occupancy restricted - by us - to less than 50%, there is usually more than 6 feet separation between tables.
Take-out Options
Meals - prepared foods and hot and cold sandwiches are available for take-out from the Market & Deli.
Take-out from the restaurant is available when it is serving.
Restaurant Dining Schedule
Please see her for current restaurant schedule.
Prepared foods from the restaurant are available at the Market - , cold and hot sandwiches for take-out or, alternatively, eat at one of our picnic tables there. Closed Christmas day only. 
Dining For Groups
Dining will be available - breakfast, lunch and dinner throughout the group stay, irrespective of the public dining schedule.
Exercise in Our Mountain Air
Walk, hike, ride horses,  eat our good southern family style food - all while staying socially distant.
No News Unless You Want It
Here we escape the TV news as we have TV in only a handful of rooms. But we have High Speed Wifi in all the Lodges and Cabins excepting Rose River, Boxwood and Wild Wind - for streaming HULU, Netflix and Amazon.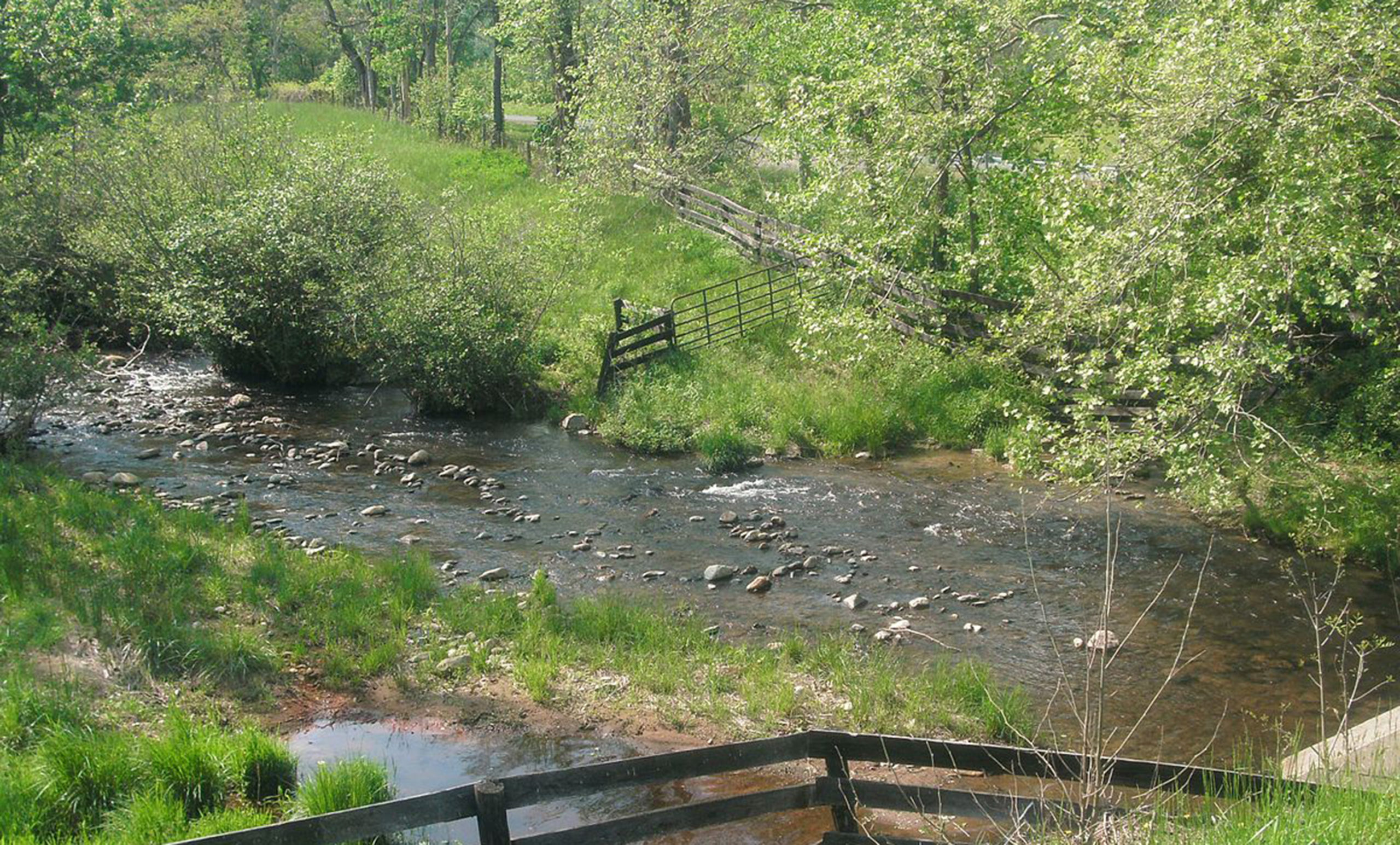 Tech Limited, no cell except via Internet
TV in Main Lodge and Hilltop Only

WiFi however is Super Speedy Now

This year we have brought
in High Speed Fiber Optic Internet at Main Lodge,
Hilltop and Ridgecrest Lodges and a number of cabins/cottages.
Cabins - Cottages - Condo Suites
Mountain Streams on the Farm
Large Picnic Event Spaces
Miss Ellie, the pet pig, visits neighbors. She goes for two walks daily with our guests and her people "Momma" - Missy Graves.
We have cattle -  black and longhorns to visit, The highlight here is Joanie, the pet cow, who lives over at Missy Graves' meadow.
Chicken coop and egg collection.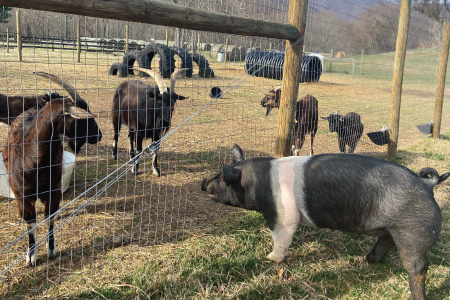 Fly Fishing on two mountain streams flowing off the Blue Ridge - right here on the Farm with another three renowned streams nearby.
Then, we have two stocked ponds - one with trout and one with bass and catfish.
15 miles of hiking trails on the Farm and another hundred in the neighboring Shenandoah National Park.
From the Farm, hike the two renowned Shenandoah NP trails - just a 7 mile drive  to "Old Rag" and White Oak Canyon trail heads.
Easy walks through the farm and orchard on our 1100 acres.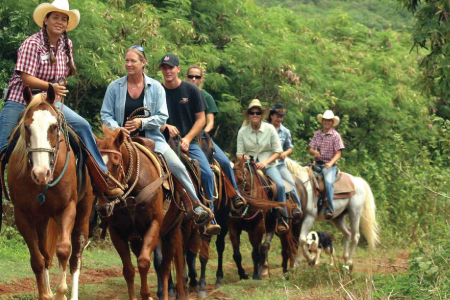 Trail rides, horsemanship classes, horse camping and stabling are all here on the Farm with our partner
"Circle B Stable".
We do ride Western style here on twenty miles of trails on the farm and 100 miles including the Park, which borders us.
Road biking from the farm is on rural byways through meadows up hills and into the next hollow - without a shoulder but our riders will hear traffic approach.
We have route directions for various length rides. The Tour de Madison starts and ends at the Farm every year on the week before Memorial weekend.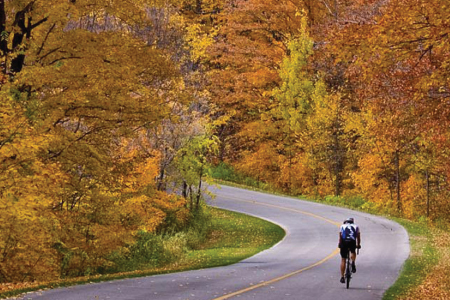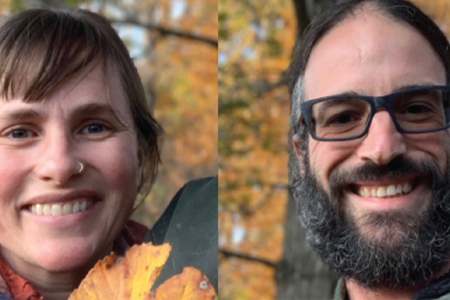 Nature walks with Jenn and Daniel Mintz - "In True Nature"- most Saturdays at 10AM - after breakfast, starting from the Lodge Porch or inside by the fire if weather requires.
The walks are "on hold" for the current time so that our guests are not gathered in a group.
We are not insulated from nature.
It is here. Nature is what we are.
Here on our Farm of 1100 acres, we have meadows, farming fields, cattle, orchards and lots of wild life - deer, bear, herons and eagles over the ponds and stream, foxes on the hunt and butterflies landing.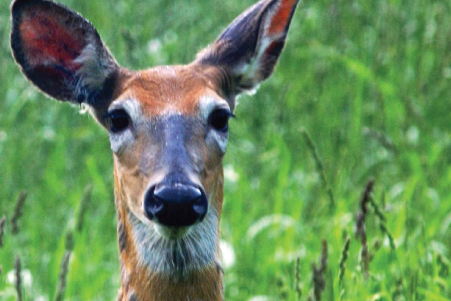 We have 4 vineyards crafting fine wines within a 30 minute drive, while our neighbor, DuCard Vineyard, is just in the next hollow and offers a superior tasting and learning experience in the setting of one of our own old orchards put to new use.  
The team there - owner Scott, wine-maker Julien along with Chris, Beth and others assisting.
Local Vineyards are offering curbside service for their wonderful wines!
DuCard Vineyards, Shotwell Run Brewery/Blue Quartz Winery, Revalations Vineyard & Prince Michel Vineyards are all located in our Madison County!