Lodge Rooms., Cabins, Camping, Restaurant, Market, Deli & Tackle, Stables, Hiking Trails, Fishing Streams and Pond are all open with health guidlines in place.
No daily housekeeping, six foot distancing, and masks in all indoor spaces, please.


Tech Limited, no cell except via Internet
TV in Main Lodge, Hilltop and several cabins - not all.

WiFi however is Super Speedy now

This year we have brought
in High Speed Fiber Optic Internet at Main Lodge,
Hilltop, Ridgecrest, Poplar Lodges and many Cabins.
Cabins - Cottages - Condo Suites
Mountain Streams on the Farm
Large Picnic Event Spaces










Miss Ellie, the pet pig, visits neighbors. She goes for two walks daily with our guests and her people "Momma" - Missy Graves.
We have cattle -  black angus and longhorns to visit, The highlight here is Joanie, the pet cow, who lives over at Missy Graves' meadow.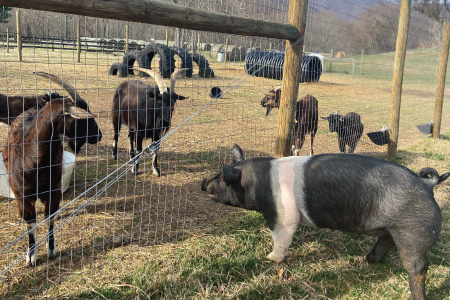 Fly Fishing on two mountain streams flowing off the Blue Ridge - right here on the Farm with another three renowned streams nearby.
Then, we have two stocked ponds - one with trout and one with bass and catfish.
15 miles of hiking trails on the Farm and another hundred in the neighboring Shenandoah National Park.
From the Farm, hike the two renowned Shenandoah National Park trails - just a 7 mile drive  to "Old Rag Mountain" and White Oak Canyon trail heads.
Easy walks through the farm and
orchard on our 1100 acres.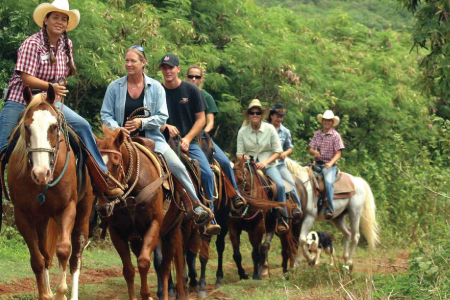 Trail rides (one hour, two hour, half day & full day), horsemanship classes, horse camping and stabling (stall rentals available) are all here on the Farm with our partner "Circle B Stable".
We do ride Western style here on twenty miles of trails on the farm and 100 miles including the Shenandoah National Park, which borders us.
Road biking from the farm is on rural byways through meadows up hills and into the next hollow - without a shoulder but our riders will hear traffic approach.
We have route directions for various length rides. The Tour de Madison tarts and ends at the Farm every year on the week before Memorial weekend.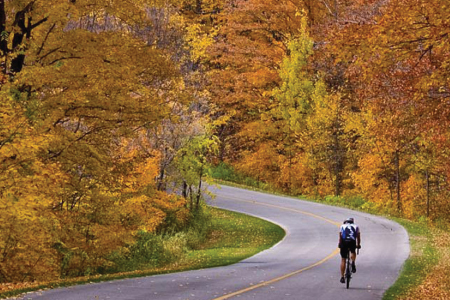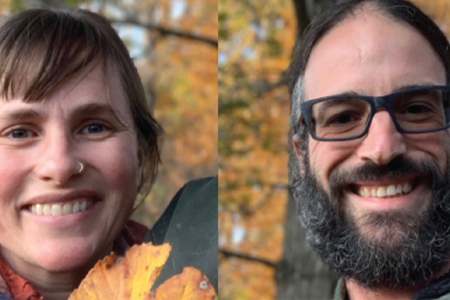 Nature walks with Jenn and Daniel Mintz - "In True Nature"- most Saturdays at 10AM - after breakfast, starting from the Lodge Porch or inside by the fire if weather requires.
We are not insulated from nature.
It is here. nature is what we are.
Here on our Farm of 1100 acres, we have meadows, farming fields, cattle, orchards and lots of wild life - deer, bear, herons and eagles over the ponds and stream, foxes on the hunt and butterflies landing.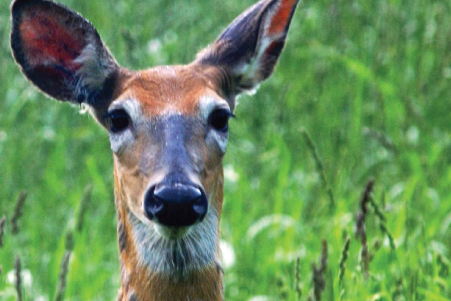 We have 4 vineyards (DuCard, Blue Quartz, Revalations & Prince Michel) crafting fine wines within a 30 minute drive, while our neighbor, DuCard Vineyard, is just in the next hollow and offers a superior tasting and learning experience in the setting of one of our own old orchards put to new use.
The team there - owner Scott, wine-maker Julien along with Chris, Beth and others assisting.