Graves Mountain Farm & Lodges – cozy winter weekend getaways in the Blue Ridge Copy
Modest resort farm in the Blue Ridge near Shenandoah National Park
Mountain outdoor center activities in Blue Ridge – 14 of them from hiking, to cascading, to road biking.
Open through winter
– unlike so many of our Shenandoah adventure resort neighbors
But now is the time to cozy up with fires and activities every Fri, Sat and Sun.
We will be open for lodging and events all through the winter.
The Farm Restaurant is open only for weekends-  Friday dinner through Sunday lunch. Margie and Margaret stand ready for you.
The Syria Mercantile stands by with Deli and Sundries for the microwave and fridge in rooms. In room coffee and tea service with take care of the morning frost.
Cozy-up – All that we will have to do, watch, feel, and play with for winter wrap up :: Read here >
BUT
– Tech Limited, no cell except via Internet
TV in Main Lodge and Hilltop Only
But High Speed Fiber Optic Internet at Main Lodge, Hilltop and Ridgecrest Lodges.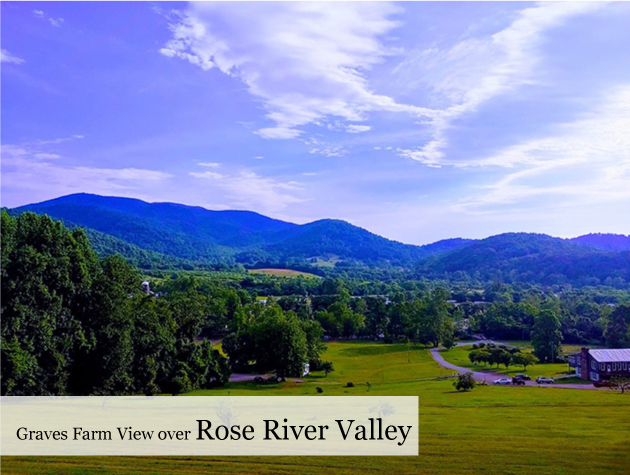 Summer View  – from the hillside lodges overlooking Rose River Valley and our two mountain streams.
Now for all year round activities – not just WINTER.
 
 
 

NATURE WALK or SHOW and CHAT around the fire, Sat 10AM at Main Lodge, 1 to 1 ½ hr, FREE
Join guides, Jenn & Daniel Mintz, for a nature walk exploring the Graves Mountain property. FREE learning experience–all are welcome!

Our guides from In True Nature will share a bit of the natural and human history of this special part of Appalachian foothills and will encourage you to discover the beauty in both the everlasting and the critical changes that surround us.
Together we will explore the plant medicines that have been used for generations, the foods provided to people and wildlife, and the other opportunities that Mother Nature provides.


 

 

 

 
 
 
 
 
+

 

 

.

 
 
 
 
 
12 sports and 6 touring areas to see and shop
Tickera Test page to get all tix on one page
– Your Cart –
Review Your Ticket Purchases