Fishing -in the Blue Ridge of VA on two mountain streams and two ponds

The Rose River and Robinson River (both rivers located in Syria) are state stocked with Rainbow Trout and Brook Trout. (State fishing license and trout stamp required)
The Hughes River is also stocked and is located about 8 miles north of Syria.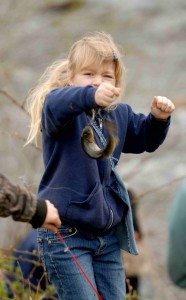 Trout Pond – Halloween 2021 weekend and most of November weekends is open
and stocked with trout (Rainbow Trout, Brook Trout, and Golden Trout). No fishing license needed. All fish caught must be kept and paid for.
The pond closes from June to September.
Bass and Catfish Pond
For our Lodge guests, other ponds on the Lodge property are available to catch and release. The ponds are stocked with bass and bream.
Trout Stocking Schedule:
Hughes and Robinson Rivers are in category A – Stocked once in each of the following periods: October; November; December; January; February; March; April 1-April 20; April 20-May 10; May 10-May 30
The Rose River is stocked in October (1); November (1); December – January (1); February (1); March – May (10).
Bring your own pole and try your luck!
Statewide regulations apply to trout fishing in all streams.