COPY -Music Festival COPY – Bluegrass, Roots and Americana in the Blue Ridge – Remade for 2020 Copy
28th Graves Mountain Music Festival
2020
– 1100 acres, by a mountain stream
– camping on 55 acres
Legacy Three Day Pass and Bluegrass Unlimited Coupon Rate – with Camping included
Adults – 18 & UP
Youth – 17 to 13
Youngster 12 & Under
Parking with Campsite
Through Mar 10
$85
$30
FREE
FREE
Through April 30
$95
$30
FREE
FREE
Through the Festival – no penalty for "At the gate".
$115
$30
FREE
FREE
Legacy Two Day Pass and Bluegrass Unlimited Coupon Rate – with Camping included
Adults – 18 & UP
Youth – 17 to 13
Youngster 12 & Under
Parking with Campsite
Through Mar 10
$65
$20
FREE
FREE
Through April 30
$75
$20
FREE
FREE
Through the Festival
$95
$20
FREE
FREE
Regular Thee Day Pass – Does NOT Include camping or lodging. Camping is JUST $10 per person per camp site.).
Adults – 18 & UP
Youth – 17 to 13
Youngster 12 & Under
NEW Family Saver – 2 adults & direct children
Parking
with Campsite
Through Mar 10
$85
$30
FREE
$170
FREE
Through April 30
$95
$30
FREE
$190
FREE
Through the Festival
$115
$30
FREE
$230
FREE
Regular Two Day Pass – Does NOT Include camping or lodging. Camping is JUST $10 per person per camp site
Adults – 18 & UP
Youth – 17 to 13
Youngster 12 & Under
NEW Family Saver – 2 adults & direct children
Parking
with Campsite
Through Mar 10
$65
$20
FREE
$130
FREE
Through April 30
$75
$20
FREE
$150
FREE
Through the Festival
$95
$20
FREE
$190
FREE
One Day Festival – advance or at gate
Adults – 18 & UP
Youth – 17 to 13
Youngster 12 & Under
NEW Family Saver – 2 adults & direct children
Parking
with Campsite
Thurs, May 28
$30
FREE
FREE
$60
FREE
Fri, May 29
$50
$10
FREE
$100
FREE
Sat, May 30
$50
$10
FREE
$100
FREE
Camping – 55 acres, first come first serve, you get to make your site, park your RV.
Pre Festival
Festival 3 Day Pass 12 and under FREE
Festval Thus and Fri , 12 and under FREE
Festival Sat – 12 and under FREE
Parking
with Campsite
"Primitive", pastures and stream, no hook-ups, limited elctric supplies, re-charging stations, dump station, Internet – free in campground and festival area, paid showers – $2 only.
$15 per site per day, special rate
$30 pp for Festival
$20 pp for 2 Days
$10 pp, $40 min per site
FREE
All NEW Stage – the BIG Rose
All NEW Audio
All NEW Lighting
NEW Workshops
NEW Pickers' Tent
NEW Pickers and Local Talent on Stage
NEW Kids Zone
NEW Kids' Activities
NEW Yoga – twice a day
NEW Road Biking Tour each morning
NEW Nature walks each morning
NEW led hikes – Thurs
NEW Trail Rides
NEW Fly Fishing Workshop
NEW Farm Tours
NEW Buggy Rides
NEW Crafters' Alley – it's all about LOCAL
NEW Craft Beer and DuCard Wine Tent –
it's all about LOCAL
NEW Rain cover tents – it's all about
COMFORT
NEW Super Affordable FAMILY Packages
. . . . price of two adults, then children or grand children are all FREE
NEW Youth $10 per 3 day Pass – 17 to 13 years
NEW FREE Youngster – 12 years and Under
NEW Food and dining choices
– local festival food and more
NEW high bandwidth Internet
– in Festival and Camping areas
Talent 2020
Bluegrass Grows into
Roots and up to Branches
20 Bands
– Plus Local Focus Talent from our Hollows

| | |
| --- | --- |
| Appalachian Roadshow | Bluegrass | Roots |
| Breaking Grass | Bluegrass – contemporary |
| Carolina Blue | Bluegrass – traditional |
| Cash Unchained | Country – traditional | Johnny Cash tribute |
| Claire Lynch & Jim Hurst | Roots | Singer songwriter |
| Crawford & Power | Country |
| Fitzgeralds | Celtic | Step Dancing | Fiddle |
| Gina Furtado Project | Gypsy jazz | Swing | Banjo plus |
| Hogslop String Band | Old Time |
| Irene Kelley | Singer songwriter |
| Junior Sisk | Bluegrass – traditional |
| Mark Schatz & Bryan McDowell | Old time | Southern Roots | Flat foot and more |
| Mile Twelve | Bluegrass – contemporary |
| Milk Carton Kids | Folk |
| Price Sisters | Bluegrass – traditional |
| Ralph Stanley II & Clinch Mountain Boys | Bluegrass – traditional |
| Scythian | Irish – Celtic Bluegrass | Americana | Central Europe Roots |
| Seldom Scene | Bluegrass – contemporary |
| Sideline | Bluegrass – contemporary |
| Slocan Ramblers | Bluegrass | Old Time |
| Songs from the Road Band | Roots | American Folk | Bluegrass |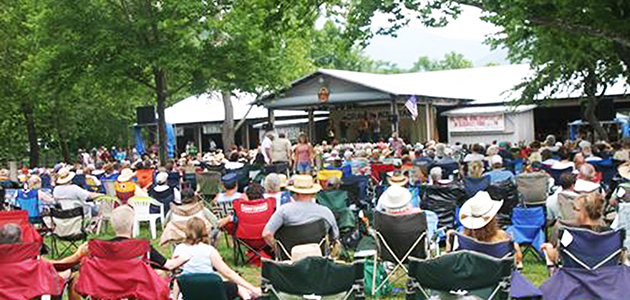 Graves Mountain Music Festival Stage Area
NEW Lower Rates for 2020
Where are we in the Blue Ridge?

Call or email for tickets – on Sale Dec 6
info@gravesmountain.com


Where Are We?
90 mi south of DC, 40 mi north of Charlottesville.
Old Rag Mountain is above us, The Rose River runs through us. The Robinson River borders the North Camping Field
Here, in Syria VA, right next to Shenandoah National Park in our Rose River Valley.