Music Festival – Bluegrass, Roots and Americana in the Blue Ridge
27th Graves Mountain Music Festival
2019
May 30, 31 & June 1, 2019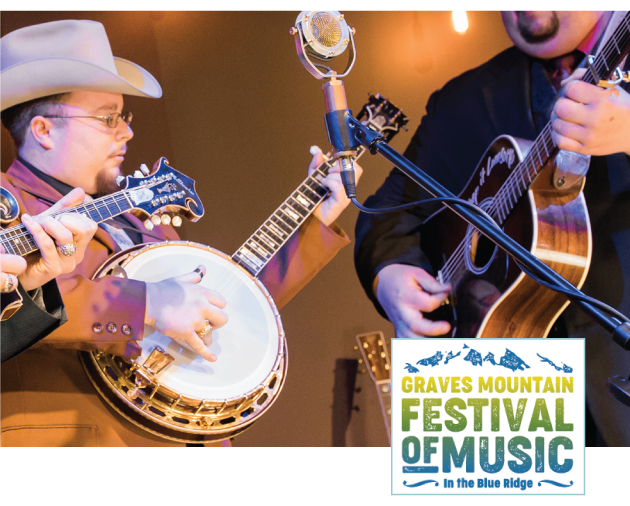 Here on the Farm
3 Days – 21 Bands – of Bluegrass, singer songwriter and country
in the Blue Ridge of VA.
In a Blue ridge Valley
– 1100 acres, by a mountain stream
– camping on 70 acres.



Fish, hike, horseback ride, pick a banjo or just sit in the stream and listen in the echo of the valley
Days: May 30, Thurs through June 1, Saturday
Times: Mid-day through 10:30PM, on Sat 10:30AM through to 10:30PM
Cost: Day Passes – Thurs $35, Fri $45, Sat $50
Camping Costs: Camping and pass to all day, 1 to 3 days of camping – set fee $115 only and that includes all the shows.
Where is our Festival?
Here, in the Blue Ridge, Syria VA, right next to Shenandoah National Park in our Rose River Valley.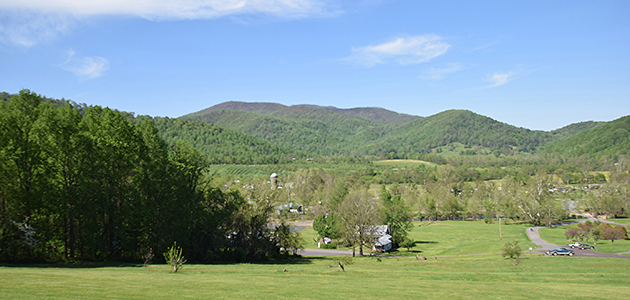 Graves Mountain Rose River Valley – before the Festival takes off
– 90 mi south of DC, 40 mi north of Charlottesville.
– Old Rag Mountain is above us, The Rose River runs through us.
Hotels and Cabins
We are sold out of hotel rooms and our 18 cabins, but Culpeper has plenty available, and there are still cabins on HomeAway/VRBO and AirBnb.
Camping
Still camping passes available, $115 per person per night including all music passes.
No Cell Valley – TECH UNPLUGGED
We are tech unplugged in our valley.
No cell and only low band width WiFi in main lodge and farmhouse restaurant. Texts will come through on the WiFi there.
Emergency Phone
Call or have a message left for you at the main number 540-923-4231 and we'll try to get through to you by public announcement.
The Scene
Performances running from late morning through to 10:30 PM, when festival goers pull out their own fiddles and banjos back at their RVs.
The festival area – the Graves Family Farm – the meadows, the camping, the walnut trees, the stream, horses, cattle, goats – all framed by the Blue Ridge Mountains just there at the edge of the camping fields. The stage is serenaded by the Rose River and the sixteen hundred returning campers clapping and whistling for their favorite fiddlers.
All there is to do when not listening or strumming
The campers and day visitors know that the stream is waiting for a dunk or a fishing rod.
– Fishing
– Hiking
– Horseback Riding
– Sitting in the river
– Rock climbing
– Road biking
– Mountain Biking
Food and Goodies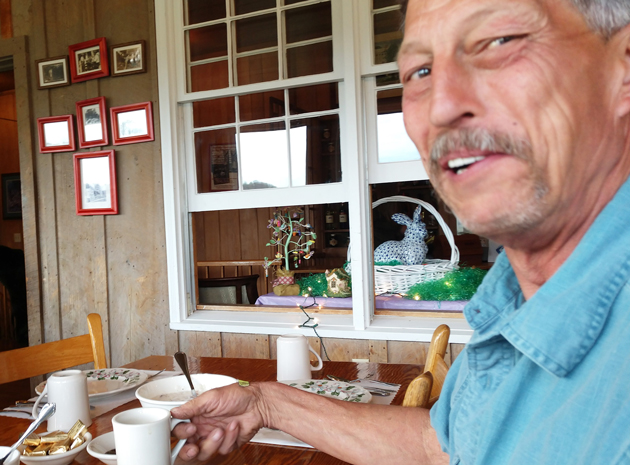 Breakfast at the lodge – sit with neighbors, know neighbors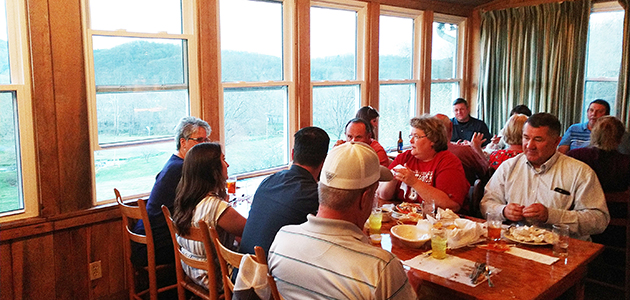 Graves Mountain Farmhouse Restaurant – family style southern cooking
Our festival guests know that they can count on the same "old style" Southern cooks, Margaret and Margie doing all the meals family style up in the main lodge farmhouse restaurant, while down by the stage there is the usual festival food and drink plus the bonus of special menus by Gail working the grill – Graves fried chicken, mountain trout, ribeye steak plus all the sides that will teeter on the plate.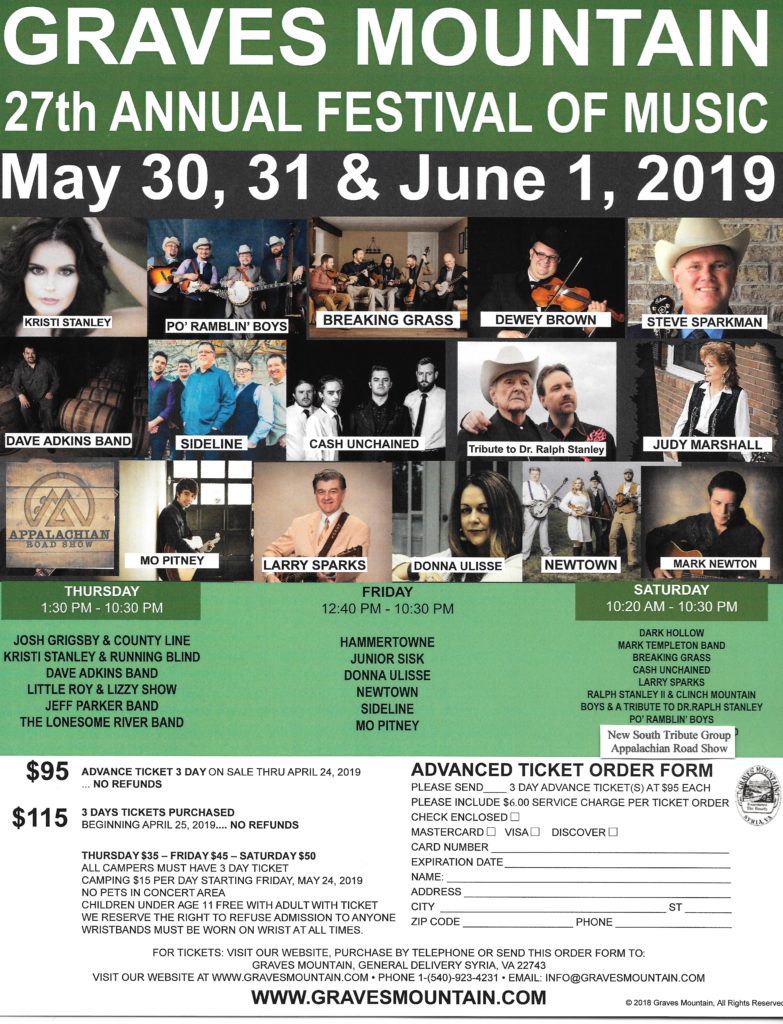 21 Bands Line-Up
THURSDAY, May 30, 2019 $35.00/day ticket
1:30 pm – 1:40 pm Welcome to Graves Mountain
1:40 pm – 2:40 pm Josh Grigsby & County Line
2:50 pm – 3:50 pm Kristi Stanley & Running Blind
4:00 pm – 5:30 pm Dave Adkins Band
5:40 pm – 7:10 pm Little Roy & Lizzy Show
7:20 pm – 8:50 pm Jeff Parker Band
9:00 pm – 10:30 pm The Lonesome River Band
FRIDAY, May 31, 2019 $45.00/day ticket
12:40 pm – 2:10 pm Hammertowne
2:20 pm – 3:50 pm Donna Ulisse
4:00 pm – 5:30 pm Junior Sisk
5:40 pm – 7:10 pm NewTown
7:20 pm – 8:50 pm Sideline
9:00 pm -10:30 pm Mo Pitney
Saturday, June 1, 2019 $50.00/day ticket
10:20 am – 11:20 am Dark Hollow
11:30 am – 12:30 pm Mark Templeton Band
12:40 pm – 2:10 pm Breaking Grass
2:20 pm – 3:50 pm Cash Unchained
4:00 pm – 5:30 pm Larry Sparks
5:30 pm – 5:40 pm Closing with The Graves Family
5:40 pm – 7:10 pm Ralph Stanley II & Clinch Mountain Boys AND A Tribute to Dr. Ralph Stanley featuring
Larry Sparks, Steve Sparkman, Dewey Brown, Judy Marshall & Mark Newton.
7:20 pm – 8:50 pm Po' Ramblin' Boys
9:00 pm – 10:00 pm New South Tribute Group featuring Ricky Wasson, Don Rigsby, Ronnie Stewart and Harold Nixon.
10:10 pm – 11:10 pm Appalachian Road Show
Download our FREE new mobile APP and have quick access on your phone to view the performance schedule and much more!. View the app online to send yourself a link directly to your phone OR just visit your APP STORE and download the free YAPP app and search for GravesMountain.
Sound By: Crabtree Sound
Details
No Refunds
All Campers must have a 3-Day Ticket
Camping $15 per day–Campground opens on Friday, May 24, 2019 for the Festival.
Gates open for camping 8 AM on Friday, May 24, 2019
We reserve the right to open gates earlier. Must stay with your vehicle, if we open the gates early and you are not with your vehicle, you forfeit your place in line.
$20 charge for golf carts
Children under age 11 free with adult with ticket
We reserve the right to refuse admission to anyone
Chair Policy
Rules and Generator Information
Please respect your neighbor
Admission Wristbands must be worn at all times
Bring Chairs or Blankets
* No ATV's
* No Coolers or Display of Alcohol in Concert Area
No Audio or Video Recording
No Pets in the Concert Area–Pets are allowed in the camping area on a leash.
Need to Rent a Golf Cart – Try K&M in Culpeper


Lodging at Graves Mountain
Places to stay near Graves Mountain
Festival Information & Tickets:
Graves Mountain Lodge
General Delivery/205 Graves Mountain Lane
Syria, VA 22743
540-923-4231
540-923-4312 Fax
Email Graves Mountain Lodge
Booking: Mark Newton, Mark Newton Entertainment Agency, email
Graves Mountain listed in 10 Great Places to go to bluegrass festivals by USA Today for 2012 – view article