Heritage Day – Cancelled for Corona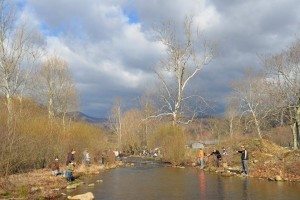 CANCELLED – for Corona Days
Heritage Day for Young Ones on The River
When: April 4, 2020
Free Admission & Free Parking/Children Register for Prizes
Rain or Shine
BUT we at Graves may do it informally – all keeping physical distance on and off the river.
2020
Heritage Day will have sections of the Rose River for Children 12 and under to fish on for both April 4 and April 5. There will be sections of the Rose River and Robinson River stocked for adults and children over the age of 12. Exhibits and food will be available on Saturday, April 4, 2020.
Trout Unlimited will be on the river to assist kids with fishing. Craft vendors will be set up as well for 2020.
What is Heritage Day?
A fun-filled day with fishing, activities and education. The Department of Game and Inland Fisheries, Trout Unlimited and Graves Mountain Lodge have expanded kid's day. Heritage Day, "Kid's Day", will be the first Saturday in April each year. A section of the Rose River (in front of Graves Mountain Lodge) will be stocked for kids 12 and under (6 fish limit). The Rose River will open up to fishing at 9 a.m. There will also be sections of the Rose River and along with the Robinson River for adults.
This year other activities will provide education and hands-on activities.
Harry Murray will give a 45 minute talk on fly fishing and also give a demonstration. Trout Unlimited will have fly tying stations, fly casting demonstrations, fly casting classes at a pond for children and adults, insect monitoring in the stream, and helping kids with fishing on the Rose River. The Department of Game and Inland Fisheries will bring their taxidermy mounted animals for display. Shenandoah National Park will have a display about fishing in the park. Solitude Lake Management will have a display of fish and their boat. Culpeper Soil and Water Conservation Districts will show macro invertebrates and have their soil tunnel. DEQ and 4-H Adventure Club, Old Rag Naturalists will be making and finding wildlife tracks.  The Piedmont Area Chapter Wild Turkey Federation will be on site with an air rifle demonstration.  Plus other organizations will have booths with displays, information and activities.
Details
Registration begins at 8 a.m. and lasts until 3 p.m. Prizes given away every hour starting at 10 a.m.
Every child 12 and under will receive a gift for registering .  Graves Mountain Lodge will have food available for sale at the picnic pavilion and also at the Main Lodge.
Hay rides will be provided by Graves Mountain Farm, with stops at Graves Mountain Farm and Graves Mountain Catch -n- Pay Trout Pond.
Syria Mercantile (a country store located in Syria) has bait, tackle, sandwiches, snacks, beverages, seeds, fishing licenses and more.
Children, 15 and under do not need a fishing license.
More information call 540-923-4231.
Activities
8:00 AM – 2:00 PM Registration (All children registering receive free gift) Prizes given out every hour starting at 9:00 AM
8:00 AM – Graves Mountain will have food for sale
9:00 AM Children fishing starts (Must be 12 years old or younger) There will be other areas for fishing for adults
9:00 AM – 4:00 PM Graves Catch and Pay Trout pond will be open for fishing for purchase.
9:00 AM Trout Unlimited members will be on the river to assist children with fishing.
8:00 AM – 3:00 PM Craft Vendors are open
10:00 AM – 3:00 PM Exhibits are open – DEQ, Forestry, DCR, Shenandoah National Park, Virginia Cooperative Extension
10:00 AM – 3:00 PM Trout Unlimited – Fly tying demo and instructional, Stream Monitoring (Macroinvertebrates), Casting Demo
Solitude Lake Management – Boat display with live fish
VA Game and Inland Fisheries – Hunting Simulator, Stuffed Animals, Snakes (weather permitting)
Culpeper Soil and Water – Soil Tunnel, Stream Monitoring (Macroinvertebrates)
Master Naturalists – Animal Tracks
Master Gardeners – Native Plants
Hay Rides to Graves Mountain Farm, Graves Trout Pond
10:30 Harry Murray presentation on fishing in the Park plus casting demo