Vineyards Surrounding Graves Farm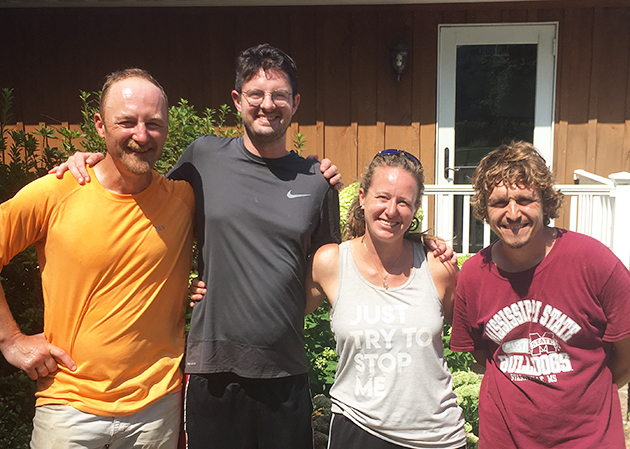 Our neighbor, just over the hill by five minutes' drive, is the superb boutique vineyard - DuCard.
This is the vineyard to visit for a tasting, a flight of tastes and aromas, flights - with flights, tastings and local nibbles of charcuterie and cheeses. :: see below for details >
Offerings at the Vineyard –

A full selection – reds, white, rose, sparkling – all hand-made, small batch, from grapes farmed by DuCard, on site and nearby – and only sold at the tasting room (not in any stores or shops)
Knowledgeable, friendly staff – most of whom work with grapes or wines in the vineyard or winery and have the stories to tell

Drop dead gorgeous locale, up against the mountains, with A River Runs Through It (really) plus grapes all around, naturally.

Dog and Young One Super Friendly
– another great place where four leggeds and wee two leggeds can crawl and play. Games for both types.

Saturday Afternoon Live Music
- most Saturdays, local musician talent from 2:30PM - 5:30 PM.
:: See here for who is playing and other events >.
Locale
They, too,  are on the shoulder of Shenandoah National Park, with the vines lining down over ground that was thirty years ago, one of our orchards - apple trees to Cabernet Franc and Viognier grapes.
The world changes. Back then our apples went to Europe. DuCard plants in 2001 and opens to the public in 2010 to rave reviews.
We are happy to partner with them as they are of the highest quality.
Their offerings are 'authentic' – with grapes  meticulously grown by them and wines all made by them at the onsite winery in small batches with tons of TLC.  Visitors get a real glimpse of how it's all done here in our area.
And now, here, in our family-style Farm Restaurant, we focus on their wines, on the LOCAL - just ask Margie, Margaret, Judy or Nancy for a glass.
We have their Chardonnay, Rose' and Cabernet Franc by the glass or bottle.
At the vineyard, the view of the mountains is different from here - more intimate. There are terraces and an indoor cathedral windowed comfy sofa space and bar for tastings with Cora, Marty, Beth, Martha, Chris and other friendly folks - we know them all. Fine folks. You'll find Beth at the Farm in the autumn, helping us with our Apple Harvest Festival.
DuCard  - a dog and child friendly vineyard & our neighbor.
A low key, real Madison experience - the tasting room is a log cabin. They are new and building their style and flavor profiles - good folks.
Vineyards are on-site and nearby in the county, though wines are made off-site on a contracted basis.
At 2710 Hebron Valley Road - in our larger valley back towards Madison
Call to see if they are open for tastings and drop in - 540 4071236
Prince Michel generally makes a sweeter character wine using grapes purchased from Virginia and California vineyards.
Located just 20 mins away on Rt 29.
Their own wines are served in a :country club" event space. They serve small plates of gourmet food.
Located 5 miles past Madison on Route 230 towards Wolftown.
Useful source for locating the many other local vineyards- from Front Royal down to Charlottesvile, there are over thirty wine-makers.