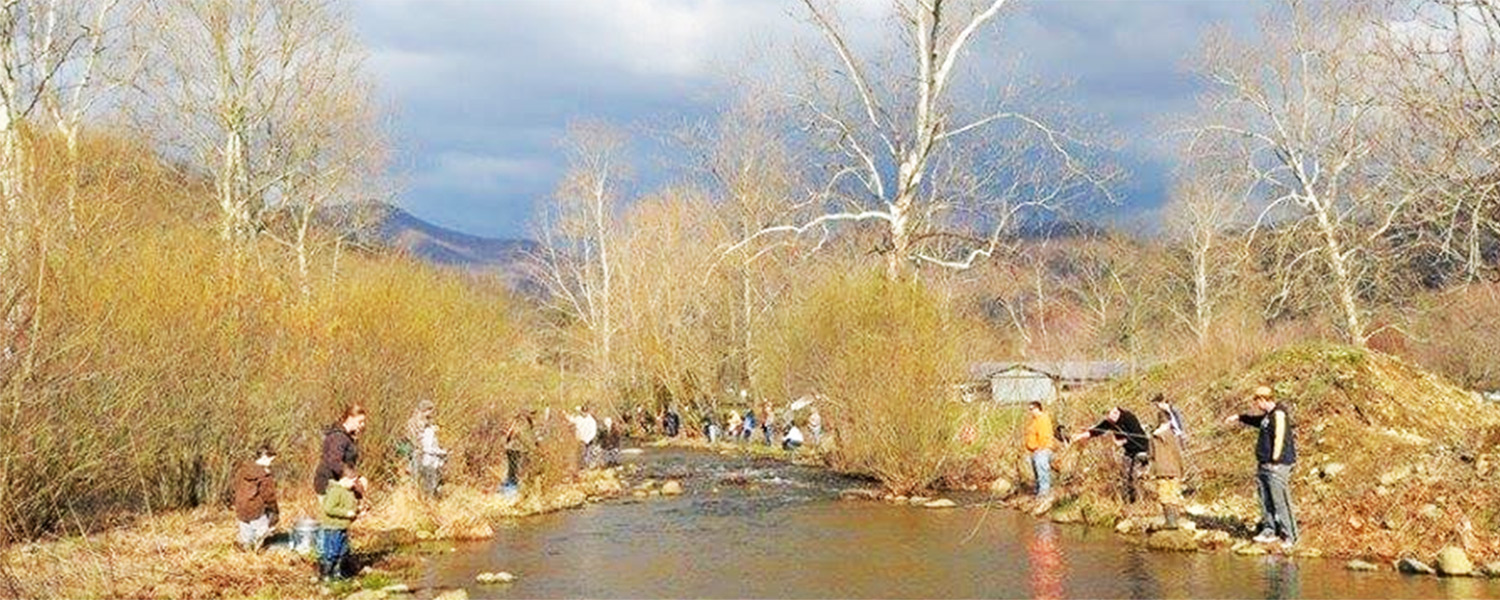 Heritage Day for Young Ones on The River
When: April 3, 2021
The First Saturday Of April - Every Year
Day of Learning how to Fish The Blue Ridge VA Mountain Streams for Trout
Free Admission & Free Parking
Children Register for Prizes
Rain or Shine
What is Heritage Day?
A day of teaching the young ones how to be on the water, how to fish, how to care for our Mountain Streams.
Fishing - Stocked Trout 
Heritage Day will have sections of the Rose River for Children 12 and under to fish on for both April 3 and April 4.
Other areas will be stocked for over 12 years and adults.
Exhibits and food will be available on Saturday, April 3, 2021.
Trout Unlimited will be on the river to assist kids with fishing.
Vendors
Eight "Craft" vendors will be here.
Food Vendors 
Hamburgers, Hot Dogs, Fish Sandwich, French Fries, Drinks, Kettle Corn, Funnel Cakes and more.
Start Time
The Rose River will open up to fishing at 9 a.m. There will also be sections of the Rose River and along with the Robinson River for adults.
This year other activities will provide education and hands-on activities.

Trout Unlimited will have fly casting demonstrations, fly casting classes at a pond for children and adults, insect monitoring in the stream, and helping kids with fishing on the Rose River.
Details
Registration begins at 8 a.m. and lasts until 3 p.m. Prizes given away every hour starting at 10 a.m.

Every child 12 and under will receive a gift for registering .  Graves Mountain Lodge will have food available for sale at the picnic pavilion and also at the Main Lodge.

Graves Mountain Farm and Graves Mountain Catch -n- Pay Trout Pond.

Graves Mountain Market-Deli &Tackle (a country store located in Syria) has bait, tackle, sandwiches, snacks, beverages, seeds, fishing licenses and more.

Children, 15 and under do not need a fishing license.

More information call 540-923-4231.
Activities
8:00 AM - 2:00 PM Registration (All children registering receive free gift).
Prizes given out every hour starting at 9:00 AM

8:00 AM - Graves Mountain will have food for sale

8:00 AM - 3:00 PM Craft Vendors are open

9:00 AM Children fishing starts (Must be 12 years old or younger).
There will be other areas for fishing for adults

9:00 AM - 4:00 PM Graves Catch and Pay Trout pond will be open for fishing for purchase.

9:00 AM - # PM Trout Unlimited members will be on the river to assist children with fishing, learning about stream health monitoring by studying macroinvertebrates, Catch and Release Monitoring.

10:00 AM - 3:00 PM Exhibits are open

10:30 Harry Murray presentation on fishing in the Park plus casting demo 

Ducks Unlimited