Whether you're interested in a formal dinner or a casual gathering, Graves' Mountain Lodge offers a wide variety of full-course dinners that include a meat entree with a selection of vegetables, salads, fruits, beverage, homemade breads and desserts. Unless specified, meals will be served family style for groups under 40 and as a buffet for groups over 40.  Our delicious All-You-Can Eat Seafood Buffet is served to 100 or more guests.
Menu Selections–Please call for pricing 540-923-4231 or email info@gravesmountain.com.
Fried or Baked Chicken
Turkey & Country Ham
Baked Chicken
Roast Beef
Lemon Pepper Chicken
Catfish & Country Ham
Roast Turkey
Rainbow Trout
Pot Roast
Rib-Eye Steak
Pork Tenderloin
Prime Rib
Pork Chops
Beef Tenderloin
Gravy Steak
Seafood Buffet
Fried Chicken & Country Ham
We can prepare any combination of entrees listed above. We are also happy to work with any special requests you may have. Please ask the banquet coordinator for pricing information. Prices are subject to a 5 percent increase during the month of October.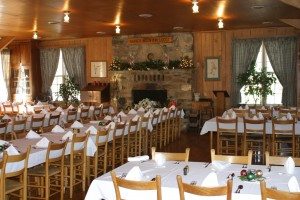 Banquet Facilities
Large Dining Room 100 guests
Bader Room 52 guests
Big Porch 72 guests
Small Porch 24 guests
(Maximum Seating Capacity)
Enjoy the splendid view of the beautiful Blue Ridge Mountains from our porch dining areas. The Large Dining Room and the Bader Room are ideal for private dinners that include formal presentations or meetings. Upon request, we can accommodate your group with a head table or special seating arrangements.
If you are interested in having a formal dinner outside and have at least 50 people in your group, the entrees listed above can be served at the Sycamore picnic pavilion. Please ask the Events Coordinator for pricing information and space availability.
Prices are subject to change at any time without prior notification.