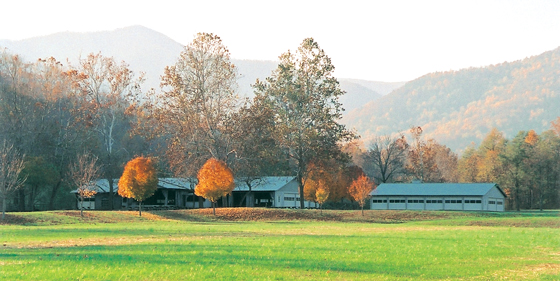 Planning a company picnic? Looking for a place to have a family reunion or a church gathering? Relax! Let Graves Mountain Lodge cater your next picnic. Year after year, groups return to Graves Mountain Lodge to enjoy our famous country cooking on our scenic grounds. We have two picnic pavilions from which to choose, Sycamore and Chimney Rock. Both are located by a babbling mountain stream, the Rose River. The peaks of the Blue Ridge Mountains provide the beautiful, natural backdrop.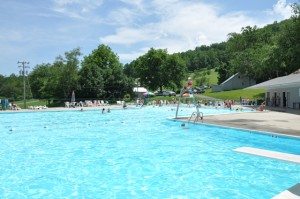 Enjoy the fresh country air and the sights and sounds of a working farm. Children will enjoy playing in the stream or running around in the large grassy field. For those who enjoy fishing, bring your fishing poles and take advantage of the stocked stream. We have a variety of recreational facilities that may be reserved during the picnic hours. After the meal, plan to take a hay ride through the orchards, or play a friendly game of horseshoes or softball. Escape from those hot summer days by taking a dip in the swimming pool which is open from Memorial Day to Labor Day. We can also help you arrange additional recreational activities. Please refer to the Graves Mountain Lodge Recreational Opportunities sheet for additional information and details.
There is a wide variety of menu options from which to choose. Please refer to Catered Picnics for menu selections and prices. The prices that are listed incorporate a full course meal, paper plates and napkins, plastic eating utensils and cups, as well as the use of one of our picnic pavilions and lodge grounds during the scheduled picnic hours.
The Sycamore is the larger of the two picnic pavilions. It will accommodate up to 400 people. It has a raised wooden stage that can be used for a DJ or band. In addition, Sycamore has a stone fireplace that can be used to create cozy atmosphere.
Chimney Rock is located west of Sycamore and it will comfortably accommodate up to 200 people. Chimney Rock like Sycamore has a stone fireplace, a perfect addition for a cool day.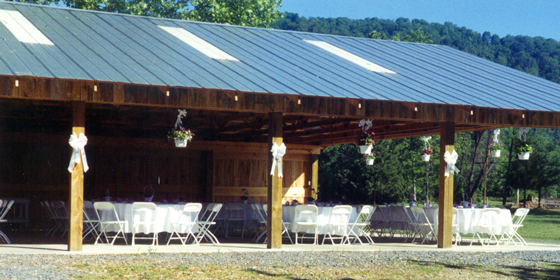 Please consider both Sycamore and Chimney Rock Pavilions when planning a wedding. Both provide a perfect location for an outdoor wedding and reception. The Events Coordinator will be happy to provide separate information should there be an interest in having such an occasion at Graves Mountain Lodge.
Deposits for Rental
A $100.00 deposit is required for a half-day non-catered rental for each pavilion reserved.
A $150.00 deposit is required for a full-day  non-catered rental for each pavilion reserved.
The staff at Graves Mountain Lodge is happy to provide its specialized services to meet your most unique picnic specifications and budget constraints. In consideration, we ask that all arrangements be completed at least one month prior to your scheduled picnic date. Thank you.
Graves Mountain Lodge will be the sole provider for outside services such as a moonbounce, dunking tank or bingo games to name a few. Please note that no outside food vendors are allowed to cater on our premises.
No alcoholic beverages are allowed on premises unless provided by Graves Mountain Lodge, Inc. Alcoholic beverages may only be consumed in the picnic pavilion area. A Graves Mountain Lodge bartender is required whenever beer or any other alcoholic beverage is served during the picnic hours. The cost is $20.00 per bartender, per hour.
A soft drink dispenser will be provided by Graves Mountain Lodge at catered picnics free of charge for a total of 4 consecutive hours. A charge of $.30/person/hour will be applied for each additional hour that the dispenser is used.
The Graves Mountain Lodge Swimming Pool is available for picnic guests during picnic hours from Memorial Day weekend to Labor Day weekend. The per guest entrance fee is $3.00 for catered picnics and $5.00 for non-catered picnics. This fee either can be paid by the guest at the pool entrance gate or placed on your master bill following the picnic. Our recreational facilities are available to picnic groups during the time of their scheduled pavilion rental. All equipment is available on a first-come, first-serve basis. Requests to use a recreational facility must be made prior to the scheduled date of the picnic. Please refer to the information sheet about our recreational facilities for details.
For a catered picnic a deposit of $500.00 is required to hold your reservation. All deposits for the picnic pavilions must be made at least two months in advance. A cancellation notice must given 30 days prior to the scheduled picnic date in order for the deposit to be refunded.
The picnic pavilions may also be rented for non-catered picnics. Please note that Graves Mountain Lodge will bill for a full-day rental if a group picnic extends beyond the specified half-day rental times.
All picnic rental charges are subject to a five percent Virginia sales tax. Prices are subject to change at any time without prior notification. October rates will apply.
Wireless internet available at both picnic shelters.