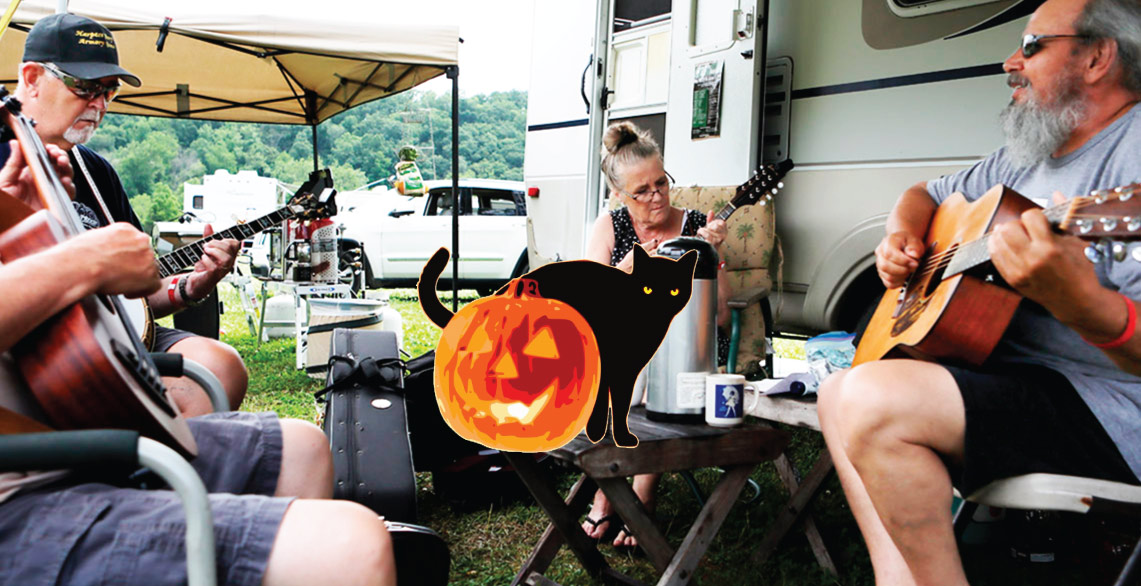 Blue-boo-grass jamming weekend
Friday, October 30 through October 31
Graves Mountain Farm and Lodges in conjunction with Graves Mountain Music Festival at the their primitive campground at the foot of the Blue Ridge next to Shenandoah National Park.
Graves Mountain's volunteer jamming guru, Vince May, says "We focused on giving our Bluegrass musicians more and more chances to gather safely in the outdoors and create what we love - Bluegrass music."
"We are welcoming all our Bluegrass music friends for Halloween weekend to the campground. Players, listeners, and learners. No cost, no fees, other than small camping fees. Just please keep our distances and keep safe in the farm's meadows."
"The Bluegrass jam is there for all to join in on, listen to or learn from. We all love making music together and passing our passion on to neighbors."
Halloween at Graves Mountain Farm and Lodges

For Halloween in 10 Parts - see here >
For Halloween, we've lined up a Trunk or Treat at the Graves Market, and a haunted house at the apple packing shed. We're calling it "Haunting the Apples", spooky story-telling around the campfire with Molly MacGregor, sign-along, and Bluegrass trio on the Front Porch, and as always, the farmyard animals meet and greet in the mornings.
The Halloween jamming weekend gets going on Friday night and jamming continues through Saturday night.
There are no admission fees for anyone, while camping is $10 per person per night with a fifty percent discount for youth and kids are free.
Tel hot line: 303 877 9659